Meet the Team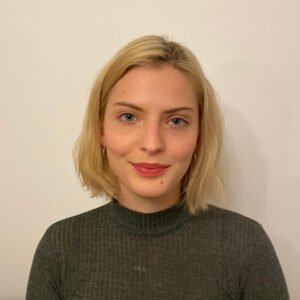 Joanna Pienkowska (she/her)
Secretary
Joanna has years of experience volunteering with migrant and refugee charities through fundraising events, oral history projects and casework support. She is currently the Policy and Campaigns Coordinator at Haringey Migrant Support Centre and previously worked on policy, communications and collaboration engagement with charitable foundations. Joanna holds a BA in History from UCL and an MSc in Refugee and Forced Migration Studies from Oxford University, focusing her research on border studies.
Having lived in South East London since she moved from Poland as a child, Joanna is passionate about her local community and keen to support people seeking sanctuary into stable employment while sharing stories through food.
Samuel Morton
Co Chair
Sam is South East London born and bred, growing up in Greenwich and studying at Camberwell College of Arts. He now lives in Lewisham, and is passionate about supporting our refugee community in the borough. In Sam's professional career, he has more than 10 years working in the charity sector. He is passionate about human rights, refugee protection, and the arts. By day, Sam is the Philanthropy and Special Events Manager at Freedom from Torture, developing and managing a diverse portfolio of high profile and award-winning fundraising events, engaging and securing significant gifts from high-net-worth individuals, as well as managing a successful celebrity and patron programme. Sam is passionate about innovation, creativity, and positive leadership.
Niki Psarias
Trustee
Nki has over 10 years experience in community-building through food, supporting people to meet their basic needs for food and connection, and working to end poverty for good. With a special focus on harnessing the power of food to unite and inform, Niki has delivered innovative pop up restaurants and food poverty campaigns for international NGOs and community organisations, serving thousands of diners, working with chefs from over 15 different countries, fundraising, and reaching up to 150 million people online with her work.
Her community food activism includes leading projects for Caritas, Conflict Café, The Hunger Project, World Hunger Day, FoodCycle, Refugee Community Kitchen and Choose Love. And her refugee family heritage inspired her very own grassroots "peace through food" initiative, Border Kitchen. A project that brings together food producers, chefs and diners from divided communities, to showcase that the kitchen is a place that has no borders. Niki has spoken on a UN panel about food, peace and community. And her practice is to use cuisine in whatever way possible to build connection, fun, healing and change.
Mona Jamil (she/her)
Trustee
Mona is a community-oriented coordinator with experience in creative engagement and co-production. Mona is the Museum Manager at the Migration Museum, helping to shape the permanent establishment of Britain's missing museum. She has previously worked with sanctuary seekers in a number of capacities, including through recipe book development at Migrateful, a charity running cookery classes led by migrant, refugee and asylum seeking chefs.
As the child of refugees, Mona is passionate about work that uplifts those that have been displaced. She primarily connects with her Iraqi identity through food, and celebrates her heritage through the processes of cooking, feeding, and sharing food practices with others.
Mona studied Anthropology at Goldsmiths, University of London and the University of Amsterdam. She also holds an MSc in Human Rights from the London School of Economics.
Tajwar Shelim (he/him)
Trustee & Legal Advisor
Taj works as the Campaign Organiser for Migrant Voice, a migrant-led national advocacy and campaigning organisation building a community of migrant voices to call for justice for all. Called to the Bar of England and Wales in the Summer of 2021, Taj has been a Caseworker for Refugees and Asylum Seekers for over 5 years providing legal advice and support both in the UK and abroad. Taj grew up in Windsor, where his family owns a curry house where he spends his time working with local foodbanks and other charitable initiatives.
Hannah Angle
Trustee
Hannah is the National Programmes Manager at Refugee Council and Trustee at Refugee Cafe.
Roy Warden
Interim Treasurer
Roy grew up in Beckenham and now lives in Hither Green. He is proud to work with Refugee Cafe in making Lewisham and surrounding areas great for everyone who lives there. He has an MA in history and an MSc in public finance and is a qualified accountant. After a 40 year career in large organisations being involved with strategy and policy as well as finance, he relishes the challenge of a small but growing charity. He runs regularly, has travelled widely, and is always interested in trying new food.