Refugee Week came to a close, like all good things, with much feasting, live music and general merrymaking. This took the form of a mini festival in the majestic surroundings of Beckenham Place Park. Given the uncertainty of the weather, it was with some relief that we at the Refugee Café had the option of both indoor and outdoor stalls to showcase our wares. 
Outside, we served Nahed's nutritious vegetable rice, Marco's Cheddar-cheese pasteles de viente and pumpkin kibbeh, alongside strawberries dipped in chocolate and coconut for afters. Indoors, the Refugee Café staples sold like hot cakes, or rather cold, but freshly baked, biscuits in our trademark fancy tins, our hugely popular hummus, plus jams, preserved fruits and the Marco's outstanding chimichurri sauce. 
Just getting this quantity of food to market was a logistical challenge of quite exhausting proportions, but Iolanda, Carina, Nahed, Marco, Gabriele and India proved that they were up to the job. Fantastic effort, team!
Iolanda's kitchen, which is fast developing into a veritable production line for our bestselling vegetarian and vegan products, was all abuzz during Refugee Week, as our chefs tried to keep up with demand, as well as pursue their studies, look after families and hold down their day jobs. 
It was all worth it on the day, however. Not only did we run out of those pumpkin kibbeh within about two hours, but we also raised over £900 for our cause.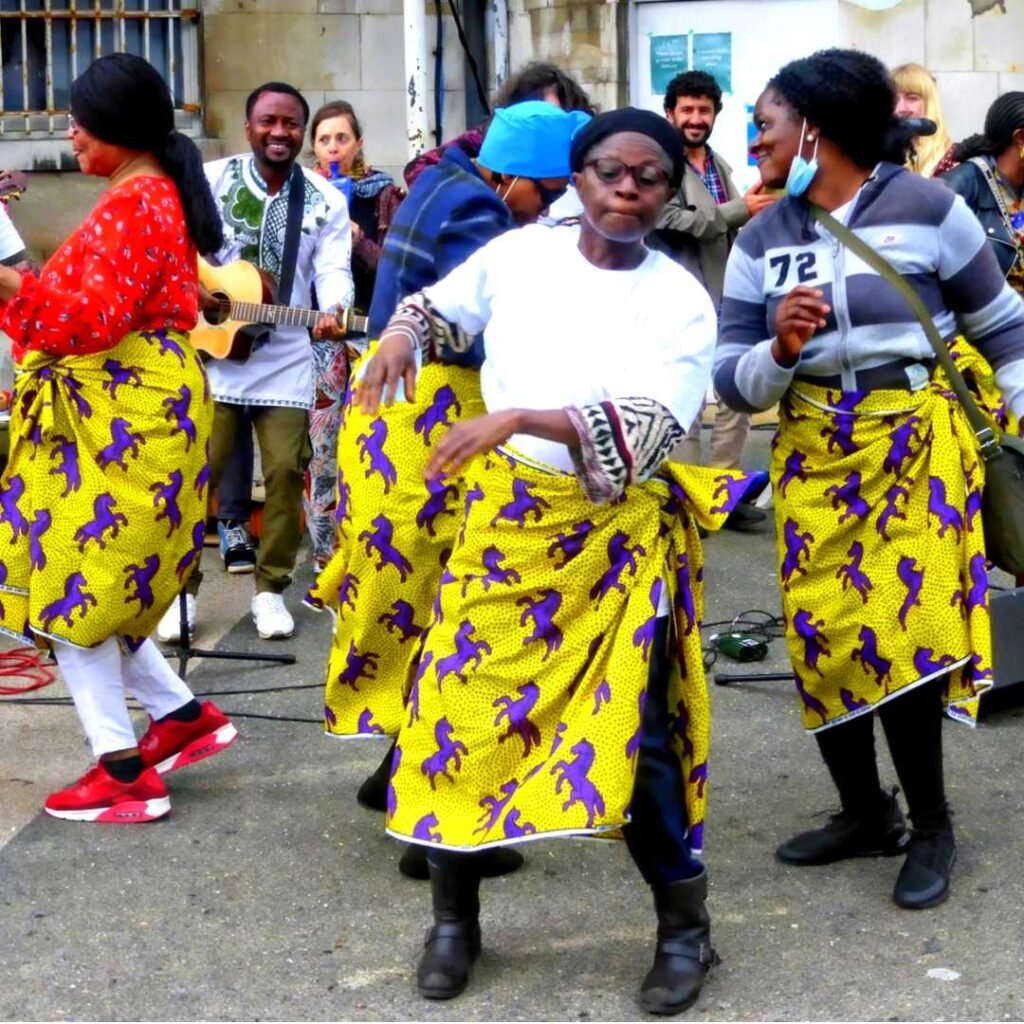 What is it about the kibbeh (from the Arabic for 'ball') that make them so good? Our refugee chefs have adapted the traditional, minced-beef filled original to make it gloriously vegan, substituting walnuts, pomegranate and spinach and a blend of spices for the meat. The outer layer of pastry has pumpkin and buckwheat flour (none of your boring old wheat flour for us).  Our kibbeh are simply delicious. It's hard to stick to just one. 
Refugee Café is all about sharing and showcasing culinary talent, which is just what we proved on Saturday, when Marco led a workshop on the fine art of making chavelitas, which are little buttery biscuits dipped in chocolate. If you thought the kibbeh were moreish, wait until you've tasted chavelitas.
With all this food production and culinary education going on as we move from venue to venue, kitchen to kitchen until we find a home, just imagine what goodies will be in store when we finally have our own home in Lewisham: a place for refugee chefs to learn from each other, and teach, to cook, network and forge a career in food production and hospitality. 
We're nearly there. With your help, the Refugee Café will soon open its very own doors and welcome you to sit down and munch a few kibbeh and chavelitas with us.
Contribution from Ronnie Haydon, Refugee Cafe volunteer