The art of Iranian calligraphy is synonymous with Persian culture and revered throughout history and by Iranophiles.
Its importance is such that Persian poetry master pieces or literature of great importance are often immortalised using calligraphy to illuminate their highly priced cultural value.  Some examples of historically important literature that are handwritten in calligraphy include collections of work by revered Persian poets such as Rumi, Omar Khayyam, Hafez, Saadia and Firdausi.  Copies of these cultural gems often adorn bookshelves of typical Iranian families or alternatively favourite poems are written in calligraphy, framed and take pride of place as wall art.
Iranian calligraphy uses specially trimmed reed as a pen and in the hands of an expert calligrapher, the humble reed creates the most glorious and remarkable curved stretches of written artistic expression.  There are many styles of Persian calligraphy and the most famous and commonly used is called 'Nasta-aligh'.
To become a calligrapher requires years of practice dedication and passion for the art of calligraphy.  The Lewisham-based Iranian artist who has produced these elegant and original pieces has been producing calligraphy for more than 30 years.
All artworks are A4 size and available for delivery from our online shop. 
Some are thoughtful on their way
Some are doubtful, so they pray
I hear the hidden voice that may
Shout, "Both paths lead astray.
Like God, if this world I could control
Eliminating the world would be my role
I would create the world anew, whole
Such that the free soul would attain desired goal.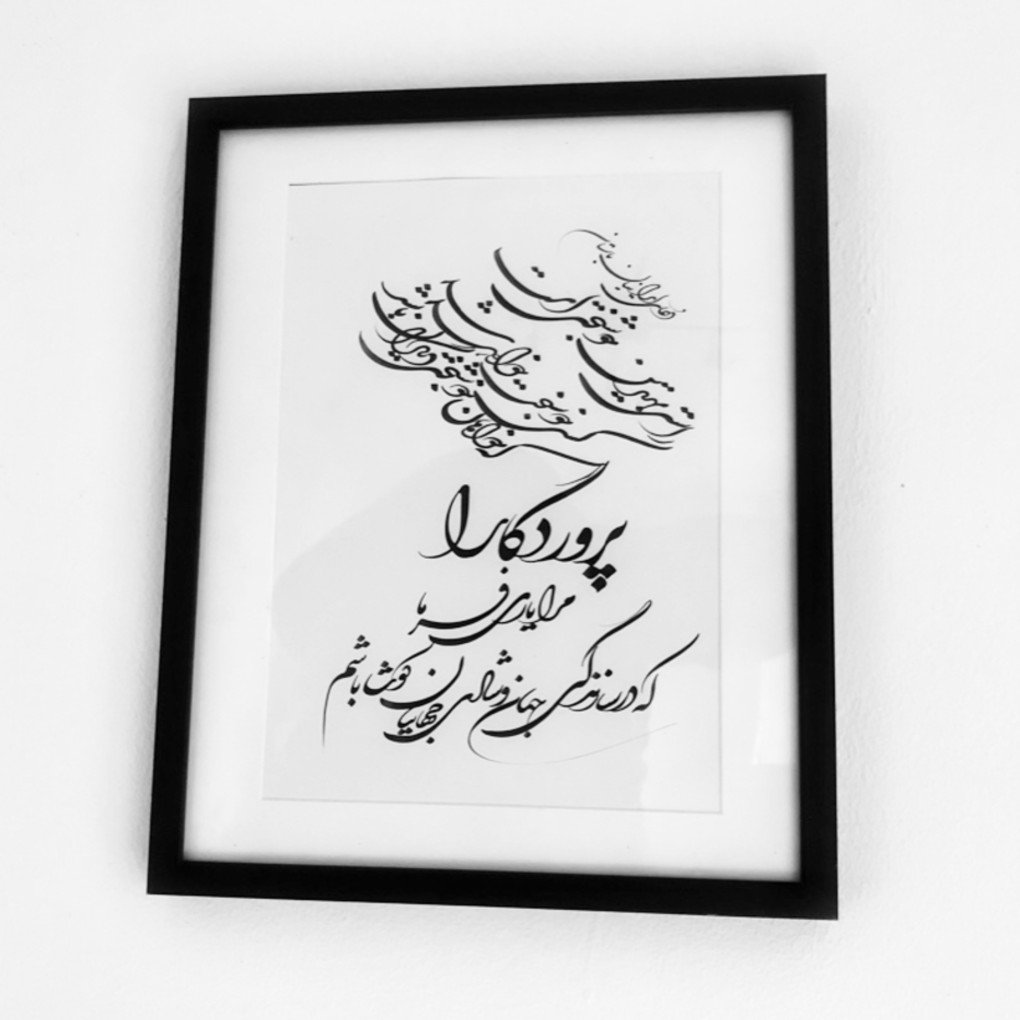 To be righteous is a blessing
Those who desire happiness for all, shall enjoy peace till eternity
Oh all mighty, bestow upon me the strength and guide me to bring happiness to all humanity
The words in the artwork below were written by Saadia who lived in the 13th Century in the southern city of Shiraz, also known as the city of love, wine and flower!  He had an inquisitive mind and explored the middle east extensively.  He is one of the many revered Persian poets whose poetry is adored by the Iranians.  This particular poem is so fitting of unions of nations that it is woven into a carpet using gold threads and adorns an interior wall of United Nations headquarters.
"Human beings are members of a whole,
In creation of one essence and soul.
If one member is afflicted with pain,
Other members uneasy will remain.
If you've no sympathy for human pain"